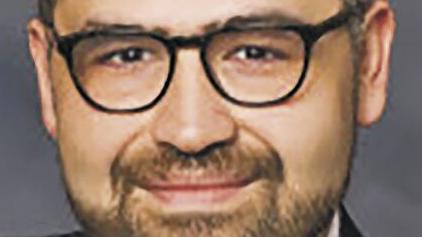 An outspoken state senator from Albuquerque who split from his Democratic caucus in May laid strong charges against his two top leaders on Friday.
Senator Jacob Candelaria, who has faced members of his own party in the past including Gov. Michelle Lujan Grisham, said Pro Senate Speaker Tem Mimi Stewart of Albuquerque and Senate Majority Leader Peter Wirth of Santa Fe lack the ethical or moral capacity to lead Democrats in the 42-member chamber.
"For me, this is a movement to change the culture of the Senate," Candelaria said in a telephone interview. "There is a fundamental problem here regarding the ambivalence of elite white progressivism that purports to support the struggle and the civil rights of queer people and people of color. But, you know, in this case it's very hollow, and empty talk isn't enough. "
Stewart and Wirth did not return any messages seeking comment but issued a joint statement.
"Senator Candelaria resigned from caucus more than two months ago and while we respect his right to express his opinion, leaders will not respond to personal attacks," they said in the statement.
Candelaria, who took to Twitter early Friday to outline her decision to leave caucus, raised two specific complaints.
First, he alleged that a bill he sponsored during this year's 60-day legislative session to end the use of the "gay panic" defense in criminal cases died at. the House following the "petty political actions of the Democratic leaders."
He specifically pointed to Wirth and Senator Joe Cervantes, a Democrat from Las Cruces who chairs the Senate Judiciary Committee.
"Here's the double-talked hypocrisy of the legislature in full screen," Candelaria said. "Sen. Wirth and Cervantes intentionally kept this bill for a month before passing it to the House after obtaining Senate approval. He said Wirth finally sent the bill at the end of the session. , "knowing full well that he would not have enough time to sit in the Chamber".
Republican officials had already started "shutting down the House prosecution," Candelaria said, referring to moves to slow down the process of passing the legislation.
Cervantes said Candelaria was wrong.
"It's his imagination," Cervantes said. "There is absolutely no basis for this criticism."
Candelaria, however, maintains that her Bill was dead when she arrived.
When it was considered in the Senate, members of the House rose to applause after its unanimous passage. Several lawmakers approached Candelaria after he pleaded for his passage in a moving speech and praised him when he received unanimous approval; Wirth was among them.
"You know," said Candelaria, "Judas went up to Jesus Christ in the Garden of Eden and gave him a kiss on the cheek.
Candelaria and Wirth have faced each other before. In March, also during the legislative session, Candelaria said Wirth confronted him in the Senate when Candelaria used a legislative maneuver to block a bill he opposed.
"Why do not you come [expletive] and propose an amendment like all of us? Wirth reportedly told Candelaria, who was sitting slumped in her chair in tears after the confrontation.
Candelaria also targeted Stewart on Friday, tweeting that she was shielding the director of the Legislative Education Review Committee "from liability for racist remarks against Indigenous children and gay men."
Director Rachel Gudgel has been accused of making fun of Native Americans and shouting homophobic slurs in the workplace at Ian Kleats, a former analyst on the Legislative Education Review Committee.
Kleats, who now works in Denver, said Gudgel, an employee of the legislative finance committee at the time, shouted a derogatory term at him as he left his office following a disagreement over spending on education at the time of the 2013 legislative session.
"It affected me, but I just tried not to engage with her," he said.
Kleats, who revealed he was competing with Gudgel for the post of director, said he didn't want his decision to speak out to be seen as "sour grapes". He said he had nothing to gain from sharing information except highlighting Gudgel's behavior in the workplace.
"Rachel did not have any management experience prior to being appointed a director," he said.
"They made a choice, and we can just see what happened now," he added.
Gudgel did not return a message requesting comment.
Candelaria said the Legislative Education Review Committee was aware of the homophobic insult when considering hiring Gudgel as director.
"Mimi had just joined the Senate, and she was fiercely opposed to hiring Rachel and was one of the LESC members who actively campaigned against her appointment" because of the derogatory remark, he said.
"There were many of us on the committee at the time who did not want to hire Ms. Gudgel because of it, but unfortunately the very clear case of discrimination against gay men did not disqualify her, so she was hired. added Candelaria, who is openly gay.
He said he found it ironic that Gudgel "now enjoys all of Mimi's political protection".
Candelaria said he doesn't believe Stewart and Wirth "are living their Democratic values" and that New Mexico needs people of color in leadership positions in the state Senate.
"I will continue to work to make this happen until it does," he said, adding that he had "no ambition" to be interim president or majority leader.
"I am also committed to investing significant funds in this effort," Candelaria said. "In my campaign account, we have about a quarter of a million dollars at this point, and I'm willing to put all that money on the table to make sure we're able to get Senate leadership that respects really people of Color. "
He said: "The actions of Senator Wirth and Senator Stewart have shown me that in my opinion, as a senator, they should no longer be given the leadership of the institution."