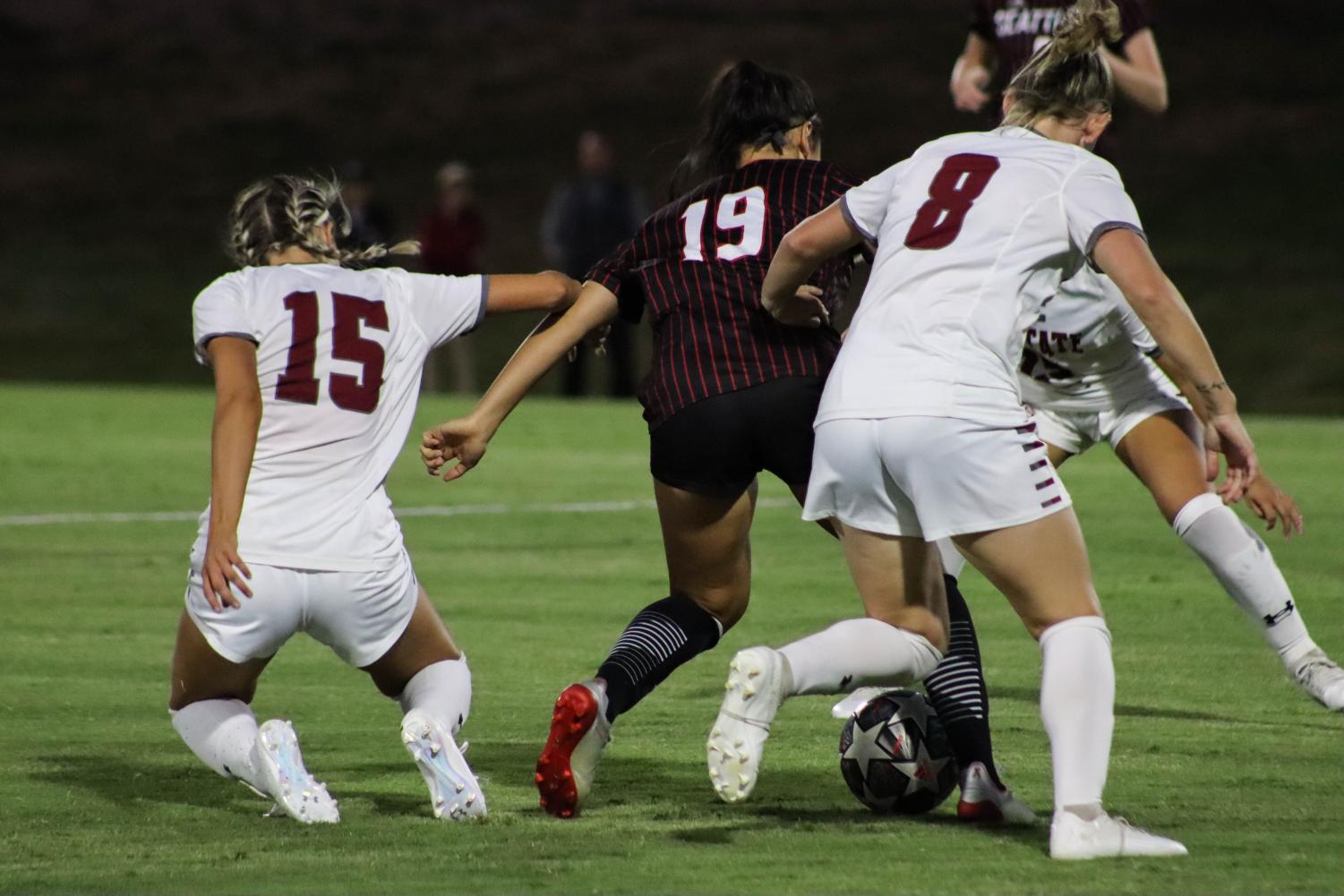 In their third game of the WAC women's football tournament, the New Mexico State Aggies hosted the Seattle University Redhawks and beat them 2-1. All the action took place in the final 20 minutes of the game when the Aggies scored, SU tied, and then the game ended with NM State winning the game in the final 40 seconds.
Seattle University has competed in the NCAA tournament three times in the past six years and won five WAC titles, making it a monumental victory for the Aggies. However, NM State and SU entered the game almost evenly; NMSU averaged 1.18 goals per game while Seattle averaged 1.3.
Both teams maintained a strong defense in the first half and neither managed to score. The Redhawks kept the pressure on the Aggies and limited their shooting opportunities. The NM State senior goaltender was strong in front of goal and made five terrific saves throughout the game.
NMSU shattered the drought when second-year midfielder Loma McNeese hooked up with first-year midfielder Bianca Chacon who fired a shot into the right side of the net. Redhawks goaltender Lisa Davis was unable to defend the shot and the now-on-board Aggies lit up the field with electric power and took full swing.
With only a little time on the clock, NMSU was shocked when SU ​​junior defensive midfielder Michele Adams teamed up with senior midfielder Gabe Jillings who threw a shot into the net, freezing the game. It seemed that over time the winner would have to be decided, but NMSU's Bella Garcia was not done yet.
With just 40 seconds left on the clock when Brooke Shultze assisted second-year forward Bella Garcia who sent a pass into the net, which Davis couldn't defend, giving the Aggies their sixth victory.
Although he played with a broken arm, Garcia had two winning shots against opponents from the WAC. After the game, she spoke about the team's tremendous efforts. "In the last couple of minutes we really gave it our all, they had just tied it up and Brooke gave me a perfect ball and I turned around and found an opportunity to shoot," she said. declared.
The Aggies ended their five-game losing streak against Seattle University dating back to 2017 and claimed their first home win since August.
In the post-game, head coach Rob Baarts discussed his satisfaction with the team for being able to keep their cool after SU scored and secured the victory. " We showed [resilience] to give up that goal so late in the game and come back and get the job done. He then continued, "The victory was massive, it's a huge move for our program."
New Mexico state women's football is now anxiously awaiting Oct. 3 to welcome the California Baptist in hopes of securing their third victory in the WAC tournament.