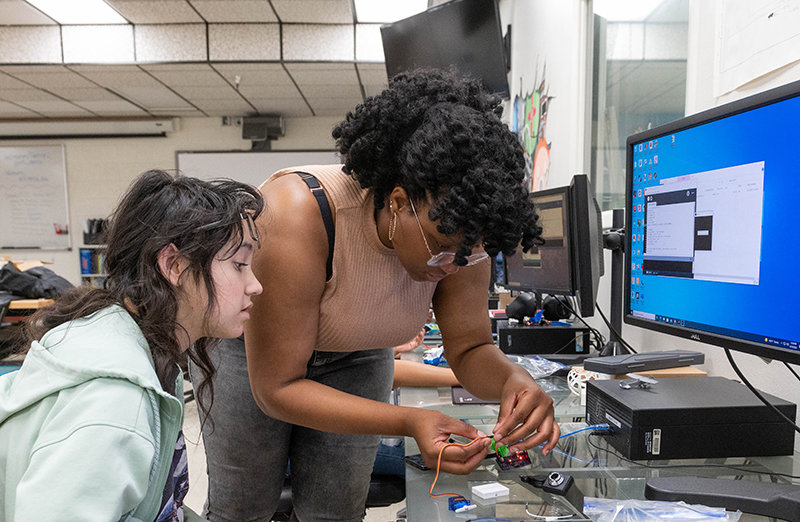 NMSU Press Release by Tiffany Acosta
This summer, returning to an in-person NM PREP Academy gave middle and high school students the opportunity to explore the fields of engineering and introductory engineering concepts through real-life projects at the University of State of New Mexico. The program also provided NMSU College of Engineering faculty with a chance to obtain broader-impact research grant assistance.
"The College of Engineering's STEM studio is a unique living laboratory that serves as a testing ground for innovative and creative educational strategies aimed at bridging the gap between teaching and learning," said Patricia Sullivan, Associate Dean for outreach and recruitment. "Expanding STEM participation requires more than the curriculum. Our experience has shown that effective engagement requires intentional strategies that expose students to relevant and relevant applications of math and science through methods innovative and traditional engineering and technology This early exposure also fosters career-focused outcomes, with current data showing that 18% of first-year engineering students have actively participated in one of our STEM outreach programs before to enter NMSU.
This summer, NM PREP Academy students worked with professors of engineering, Associate Professor Catie Brewer of Chemical and Materials Engineering, Assistant Professor Ehsan Dehghan-Niri of Civil Engineering, Professor Delia Julieta Valles-Rosales of industrial engineering and associate professor Wei Tang of the Klipsch School of Electrical and Computer Engineering, which receives grants from the National Science Foundation.
"Every NSF grant has the potential to not only advance knowledge, but also benefit society, what we call broader impacts. Much like the kaleidoscopic nature of science, the larger impacts come in many forms. Regardless of the method, however, broader impacts ensure that all NSF-funded science is working to improve our world," according to the NSF website.
"Faculty is focused on developing innovative and engaging STEM-based activities that ensure content knowledge and relevance to enhance the learning experience," Sullivan said.
The NM PREP Academy also hosted a visiting scholar from Iowa State University, who traveled to Las Cruces to learn more about NMSU's STEM outreach program and how it connects with faculty to meet impact criteria. wider. ISU Leadership and Graduation Program Manager J. Eliseo De León said he was pleased with the knowledge he gained from the College of Engineering Outreach and Recruitment Office during his visit. .
"The NM PREP Academy provides its students with an education from research professionals that they might not otherwise receive until college age," said De León. "By participating in the NM PREP Academy, young people have the opportunity to learn about paper recycling, what 3D printing entails, from the production of the raw material to the production of a final part, what it takes to design and program using CAD, and a number of other real-life skills workshops. I hope to leverage the lessons, insights, and tools that the NM PREP Academy uses to serve the residents of New Mexico and share them with the youth of Iowa.
Additionally, NM PREP Academy students are evaluated for their learning outcomes by NMSU's Southwest Outreach Academic Research Center Evaluation and Policy Center, with outcomes contributing to research by the Faculty of Engineering and Office of Outreach and recruitment.
Since 2016, the Office of Outreach and Recruitment has hosted NM PREP Middle School Academy and NM PREP High School Academy. This summer, the program returned to the Las Cruces campus as a suburban event and added a program near the San Ildefonso Pueblo in northern New Mexico, as well as a virtual option.
To learn more about STEM engineering programs, visit https://engrnm.nmsu.edu/stem-connection.