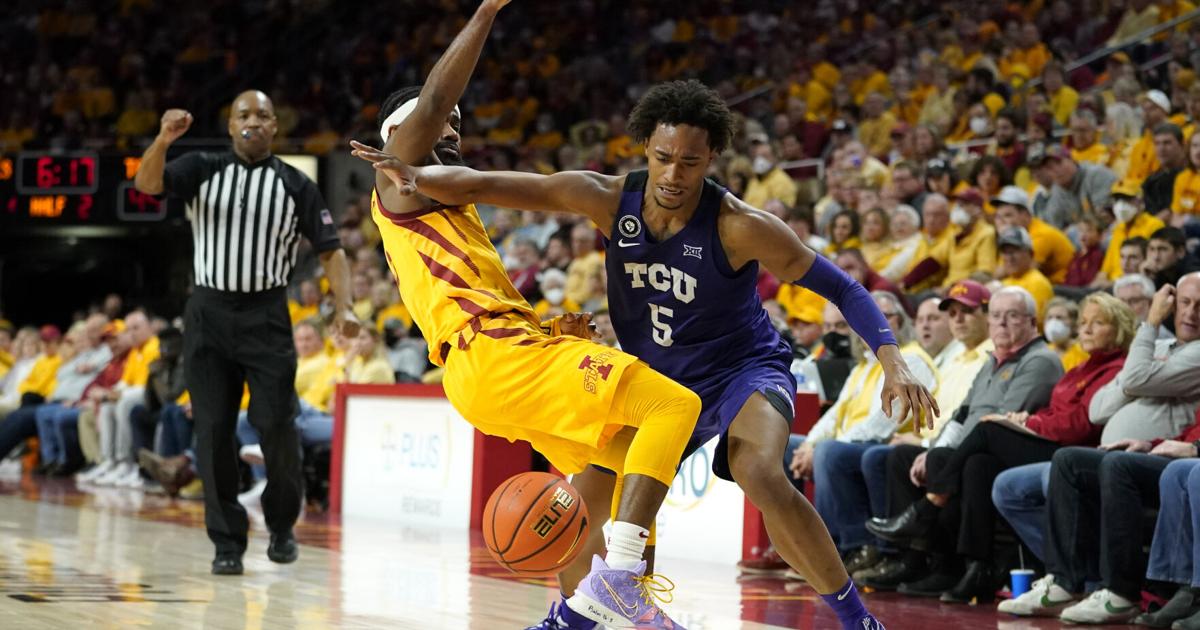 NACOGDOCHES — Teddy Allen scored 26 points and Jabari Rice added 21 points as New Mexico State beat Stephen F. Austin 72-58 on Saturday.
Allen shot 7 for 10 on 3-pointers. He added seven rebounds. Rice also had eight rebounds.
Donnie Tillman had eight rebounds for New Mexico State (16-3, 5-1 Western Athletic Conference). Johnny McCants added four blocks.
Sadaidrienne Hall had 14 points for the Lumberjacks (12-7, 4-3). Calvin Solomon added 11 points and three blocks. Gavin Kensmil had eight rebounds.
No. 23 Texas 56 Oklahoma St. 51
AUSTIN — Marcus Carr scored 14 points and had two free throws with five seconds remaining as the No. 23 Texas beat Oklahoma State 56-51 on Saturday to end a two-game losing streak.
The Longhorns (14-5, 4-3, Big 12) won despite going more than 10 minutes without scoring in the first half. They were coming off losses to No. 15 Iowa State and Kansas State.
Tre Mitchell scored 12 points for Texas, including a bank shot in the lane with 56 seconds left. Timmy Allen had 11 points and eight rebounds. Courtney Ramey added 10 points, including a pair of free throws with 11 seconds remaining.
Sophomore Bryce Thompson scored a career-high 20 for Oklahoma State (10-8, 3-4), including a layup with six seconds remaining before Carr's free throws. But he couldn't lead OSU through a second half in which he shot 32% and made nine turnovers.
No. 5 Baylor 65, Oklahoma 61
NORMAN, Okla. – Adam Flagler scored 16 points and No. 5 Baylor beat Oklahoma 65-51 on Saturday.
LJ Cryer added 14 points and Matthew Mayer had 12 for the Bears (17-2, 5-2 Big 12). The defending national champions bounced back to win both games this week after losing at home to Texas Tech and Oklahoma State the previous week. Baylor swept the regular-season series with Oklahoma and now has 14 road wins in a row.
Umoja Gibson scored 13 points and Elijah Harkless added 12 for the Sooners (12-7, 2-5), who committed 25 turnovers. Oklahoma lost its fourth straight after a promising start that saw the Sooners nearly crack the AP Top 25.
TCU 59, No. 15 Iowa St. 44
AMES, Iowa — Damion Baugh scored 23 points to help Texas Christian upset No. 15 Iowa State 59-44 on Saturday.
Baugh had 11 of 17 shots, while TCU (13-3, 3-2 Big 12) held the Cyclones to their lowest point total in Hilton Coliseum's 50-year history. The previous low was 44 points against Tennessee in 2018.
Iowa State (14-5, 2-5) struggled to get things done offensively, shooting just 31 percent and committing 11 turnovers.
Izaiah Brockington led the Cyclones with 19 points and 12 rebounds, scoring his seven double-doubles of the season.
Iowa State used a 10-0 run to shoot within 36-33 in the second half, but Baugh connected on a pair of jumpers to push back the Horned Frogs lead to 46-33 with 10:01 remaining.
TCU hit just two of its first nine shots but ended the slump with 3-pointers from Emanuel Miller and Damion Baugh.
The Horned Frogs went 11-4 and took a 15-8 lead. The margin increased to 34-23 at halftime, Baugh closing the period with a jumper.
No. 2 Auburn 80, No. 12 Kentucky 71
AUBURN, Ala. – Walker Kessler scored 19 points and KD Johnson added 17, helping No. 2 Auburn keep its hot streak alive with an 80-71 win over No. 12 Kentucky on Saturday.
The Tigers (18-1, 7-0 Southeastern Conference) rallied from a 10-point deficit to win their 15th straight game in possibly the biggest home game since Auburn Arena opened in 2010. It was big enough for the traditional football school to have students. setting up tents Friday morning, camping out to make sure they get in.
The Tigers, who tied for the highest ranking in program history, were worth the wait. Fans chanted No. 1 in the final moments, hoping to supplant Gonzaga.
Kentucky No. 2 scorer TyTy Washington played just eight minutes and scored four points before being helped off the field with a left ankle injury. He didn't come back.
Oscar Tshiebwe had 16 points, 14 rebounds and four blocked shots for Kentucky (15-4, 5-2). Kellan Grady made 4 of 7 3-pointers and scored 17 points. Sahvir Wheeler, Johnson's former Georgia teammate, also had 17 points and four assists.