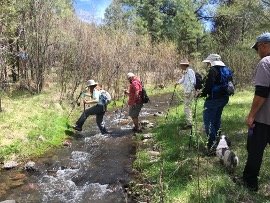 The Continental Divide Trail Coalition (CDTC) will join conservation and recreation organizations from across New Mexico in celebrating the eighth annual Latino Conservation Week July 17-25.
Each year during Latin American Conservation Week, a range of nonprofit, faith-based, and government organizations across the country host events that connect Latino and Hispanic families and youth with outdoor recreational opportunities. air near them, strengthen the commitment of the Latin American community to conservation and demonstrate Perspectives of Latin and Hispanic communities on conservation issues.
"Latino Conservation Week is a wonderful opportunity to highlight the countless contributions of Latin American communities to conservation in New Mexico and along the Continental Divide," said Teresa Martinez, Director General of the CDTC. "Our communities have lived and managed these lands for generations, and this week invites people from all walks of life to learn about the conservation heritage of Hispanic and Latino peoples and to enjoy New Mexico's public lands together."
CDTC's events across the state for this year's Latino Conservation Week will provide conservation enthusiasts of all ages the opportunity to recreate in the great outdoors and enjoy the community. The week kicks off Friday, July 16 at 5:00 p.m. at the Farmer's Market Pavilion in Santa Fe. Conservation and recreation leaders from across the state, including Dana Vacker Strang, Assistant Commissioner of Surface Resources for the Land Office of the State of NM, and Axie Navas, director of the New Mexico Outdoor Recreation Division, will speak and conservation organizations will organize tables for attendees to learn how to get involved in conservation efforts and recreational activities. .
"It is such an honor for the New Mexico Outdoor Recreation Division, whose mission is to ensure that all New Mexicans benefit from the growth of the state's outdoor economy," to participate in the celebration of Latin American Conservation Week. The event brings together leaders of the Latino community who are working for equitable access to the outdoors and the stewardship of our lands and waters, "said Axie Navas, director of the New Mexico Outdoor Recreation Division.
CDTC will also be hosting events throughout the week in the CDT Gateway communities. These events include a presentation on the culture of the Hispanic Shepherd in Chama, New Mexico; a community hike in partnership with the New Mexico Wilderness Alliance and Step Into Cuba at Asisi Park in Cuba, NM; a CDT themed lesson for local children in partnership with Future Foundations and a community hike with Cibola Trail Alliance in Grants, NM; and a conservation and art exhibit in Silver City, NM, in partnership with New Mexico Wild.
Latino Conservation Week began in 2014 with a series of 9 events initiated by the Hispanic Access Foundation. Since then it has become a national celebration.
"Latino Conservation Week is a national initiative with hyperlocal implications," said Simon Sotelo, grassroots community organizer and Latino outreach coordinator for New Mexico Wild. "The purpose is to support local events celebrating the contributions of the Latinx community to outdoor spaces and public places. "
CDTC and its partners, including the New Mexico Wilderness Alliance, Hispanic Access Foundation, Nuestra Tierra Conservation Project, Friends of the Organ Mountains-Desert Peaks, Cibola Trail Alliance, Step into Cuba Alliance, Chama Valley Outdoor Club, Outdoor FUTURE Initiative and others , will host events throughout the week. All events organized by the CDTC are free and open to the public. To find an event near you, visit facebook.com/continentaldividetrailcoalition/events or latinoconservationweek.com.